ASSORTMENT OF WAX VARNISHES
LIGHT SHINE AND TONE, WITH LESS 1 HOUR DRYING. ODORLESS.
As you know, beeswax is a building material for honeycombs in a beehive. It consists of esters of the highest fatty acids and higher fatty alcohols, as well as higher saturated hydrocarbons.
This composition of beeswax ensures its high stability against external factors such as sunlight and water. It also has strong water repellency properties. Over time, the properties of beeswax remain practically unchanged.
Due to its properties, beeswax is an ideal material for protecting and decorating wood. It forms a pronounced, and at the same time, vapor-permeable coating, which looks like a varnish finish on the wood, but at the same time the wood does not lose its ability to "breathe", i.e. maintains the natural balance of water vapor, which creates comfort in the room.
Beeswax contains biologically active substances that have a positive effect on human health. This it compares favorably with traditional chemical varnishes.
The special ETNO technology allows the wax to be converted into a liquid cream without the use of solvents, using only water. Thanks to this, no harmful substances are emitted even when applied to the air.
The resulting varnish has a noble silky sheen and a "depth" effect, making the wood look bright and rich. You can tint beeswax varnish with any tinting pastes for water paints, getting unlimited number of shades.
The service life of the coating is at least 50 years, and in fact exceeds the service life of wood.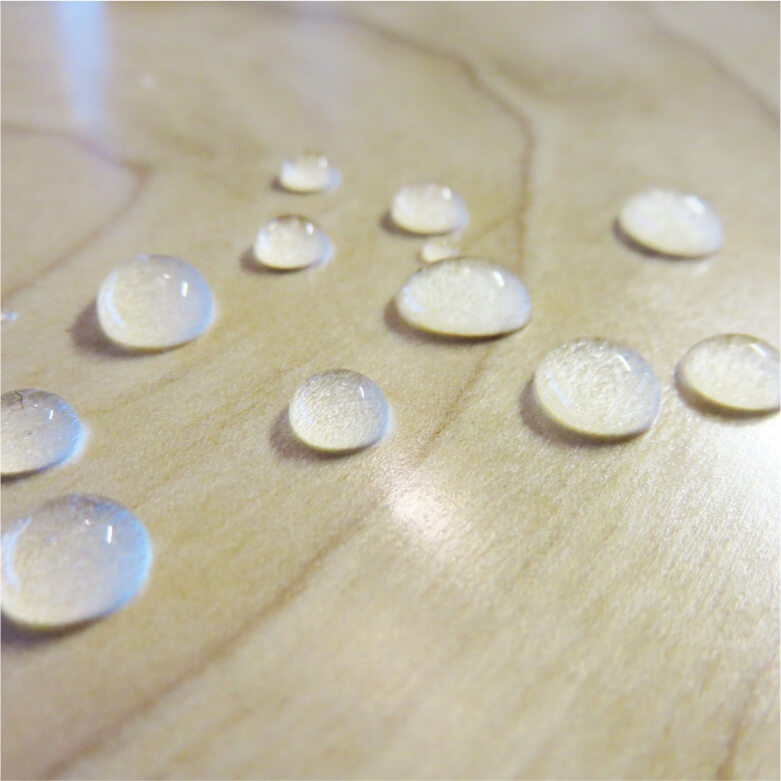 A noble semi-matt shine creates a stylish and cozy interior.
Looks great both in colorless and in color.
Light or white tones of ceiling lacquer give the interior a lightness.
FOR WEAR-FREE
CONSTRUCTIONS
Wear marks can be easily removed with one brush stroke.
GLOSS IN ONE MOTION, WITH DRYING 5 MINUTES. WITHOUT SMELL.
In Brazil, Copernicia cerifera or Carnauba palm grows, on the leaves of which a thick layer of wax is formed, which has received the name is "carnauba". The purpose of the wax is to protect palm leaves from the scorching sun, tropical showers and insect pests. This is why carnauba wax is so hard, waterproof, shiny and heat resistant. Carnauba wax base are higher fatty acids.
The wax is mechanically removed from the palm leaves, melted and refined. The marketable form of carnauba wax is small flakes or granules of white or straw color.
Carnauba wax has the highest gloss and hardness of any natural wax. It is completely safe and ideal for both applications in the food industry (glaze), in cosmetics (thickener and brightener), and for polishes wood, cars and other surfaces.
ETNO has developed a technology for the production of a solvent-free, water-based varnish, containing only carnauba wax. Due to this, even when applied to the air, no harmful substances are released, and the formation the glossy surface has become very simple. The wood quickly and easily forms an excellent glossy finish that preserves natural vapor exchange ("breathing") of wood.
The service life of the coating is at least 50 years, and in fact exceeds the service life of wood.
EXPRESSED SHINE
SEMI-GLOSS
IDEAL FOR
FURNITURE, PRODUCTS
>50 yrs
SERVES LONGER,
WHAT IS A WOOD